Lorem ipsum dolor set
Lorem ipsum dolor set
Lorem ipsum dolor set
Lorem ipsum dolor set
Lorem ipsum dolor set
Lorem ipsum dolor set
Lorem ipsum dolor set
Lorem ipsum dolor set
Lorem ipsum dolor set
Lorem ipsum dolor set
Lorem ipsum dolor set
Lorem ipsum dolor set
WHAT JAGUAR FUELING HAD TO SAY
Don't just take our word for it
StratusGrid moved us from a limited, unreliable virtualized environment to a fast, highly reliable solution that is hosted entirely in AWS. They were able to analyze our situation and devise a plan to move our company data to AWS with minimal impact to our company. Keeping the operations running smoothly was one of their highest priorities. They were able to work with a very difficult problem and delivered an amazing, trouble-free environment. The solution has also allowed us to scale workloads as the needs arise. StratusGrid really delivered!"

About Jaguar Fueling Systems
With over 30 years of experience in the Fuel Services Industry and a reliable network of local suppliers no matter where you are in the United States, Alaska, Hawaii, and Puerto Rico, Jaguar Fuel Systems has the experience and resources to provide their customers with the highest quality of customer service and reliability in the industry. With Jaguar Fuel Services fuel management systems in place, companies tap into resources that are designed to effectively measure and manage the use of fuel consumed by their business. Whether using their services for fleets of vehicles, railway vehicles, aviation, construction, and pipelines, or any other operation that requires fuel to operate, customers count on Jaguar Fueling Services. They employ state-of-the-art methods and technologies to monitor and track fuel inventories, fuel purchases, and fuel levels dispensed. (jaguarfueling.com)
The challenge

Our AWS partnership and focus on the supply chain and logistics industry afforded us an introduction to Jaguar Fueling at a critical time in their information technology journey. They hired a new IT Manager who was inheriting an on-premises, outdated tech stack through a colocation provider. They lacked certain modern systems and features that represented a risk for Jaguar's business continuity, among other concerns, and they lacked direct control over their environments. Their IT Manager came to us with an interest in migrating them to AWS using best practices and because it was the best fit for them to be prepared to scale their growing business and better protect themselves from outside threats, as well as take more proactive control over their technology future.

The solution
StratusGrid jumped in quickly by assessing their current environment and determining a path forward for migrating Jaguar Fueling to AWS, including their infrastructure, systems, applications, and more. After all, they wanted to go "all-in" on cloud technology. We knew we were going to be working alongside their existing provider to ensure as smooth a transition to the cloud as possible. We also wanted to structure this holistic transition to the cloud to present very little business disruption. We broke this into three high-level phases: Planning for the Migration/Modernization, Executing the Migration, and Final Cutover.

Benefits
Better control and management:
Jaguar's IT future is now more firmly in their own hands! They have full access and are not set up in a way that would reduce their ability to be agile and make quick changes or decisions to improve their security posture or end-user experiences.
Security & best practices:
As with all projects we do at StratusGrid, we helped implement best practices around structuring AWS accounts and workloads, and wrapping them with the latest security measures to ensure Jaguar's data is protected and to better prevent bad actors from affecting their ability to serve customers and drive growth.
Scalability to prepare for rapid growth:
Speaking of growth, Jaguar has been experiencing a significant rise in demand - and AWS prepares them to scale and puts them in a position to continue to succeed at driving their business forward instead of worrying about their technology and data health.

AWS services and technologies used:
- Route53
- Virtual Private Cloud (VPC)
- AWS Directory Service
- AWS WorkSpaces
- EC2
- …and more!.
Lessons learned

Control access effectively!

Perform a deep dive and ensure proper, top-level admin access on all sites

Enforce multi-factor authentication (MFA) on all accounts

Hold the keys to your own destiny!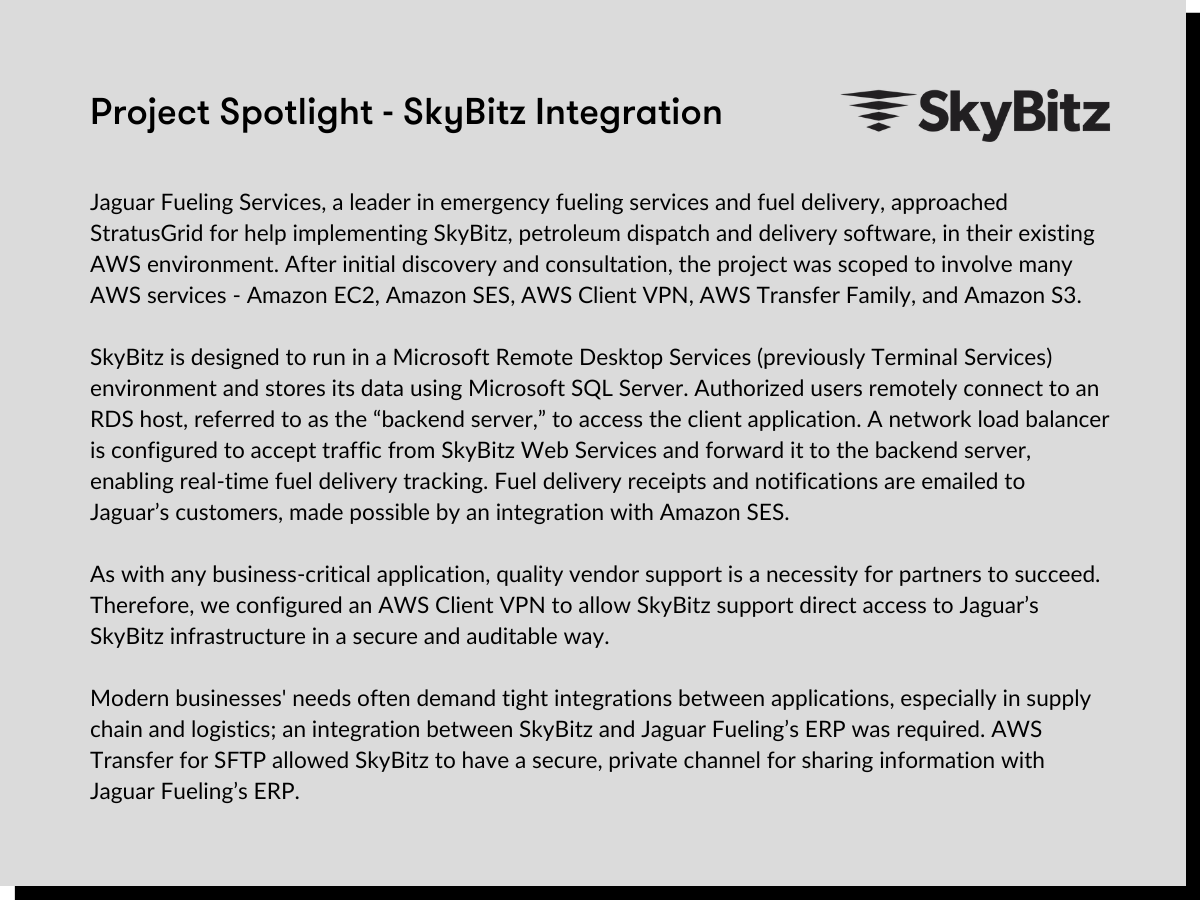 Want to be one of our success stories?